Explore the Possibilities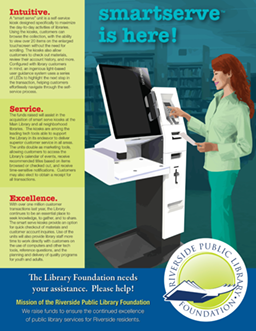 Riverside Public Library seeks to enhance health literacy in our community. The U.S. Department of Health and Human Services defines Health Literacy as the degree to which individuals have the capacity to obtain, process, and understand basic health information and services needed to make appropriate health decisions. According to the National Assessment of Adult Literacy, only 12 percent of adults have proficient health literacy. Thus, 9 out of 10 adults lack the skills needed to manage their health and prevent disease. 
The funds raised will assist the Library in offering Health Literacy materials and resources to the community. Customers will have access to reading materials, media, and online information on healthy eating, healthy living, common diseases, support groups, local resources, and items such as FitBit activity trackers, pedometers, and exercise equipment. 

Health bodies begin with healthy minds. The Library continues to be the place where community members seek and share information. Health Literacy collections at all library locations will provide another way of enhancing life in the community and connecting neighbors with one another. 

Let's work together for a healthier Riverside!
About Our Annual Campaign
Each year the Riverside Public Library Foundation conducts an annual campaign. Our annual campaign consists of three phases:
Phase 1: The solicitation of major donors ($500 and above). See this year's major donors.
Phase 2: Our annual fundraiser and the inclusion of a flyer and return envelope included in the City of Riverside's April Public Utility bill.
Phase 3: Personally contacting any donors who have given to us previously but not yet in the current year.