Smartserve™ is Here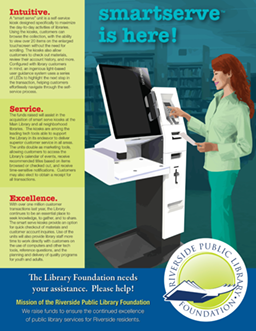 A "smart serve" unit is a self-service kiosk designed specifically to maximize the day-to-day activities of libraries. Using the kiosks, customers can browse the collection, with the ability to view over 20 items on the enlarged touchscreen without the need for scrolling.

The kiosks also allow customers to check out materials, review their account history, and more. Configured with library customers in mind, an ingenious light-based user guidance system uses a series of LEDs to highlight the next step in the transaction, helping customers effortlessly navigate through the selfservice process.

The funds raised will assist in the acquisition of smart serve kiosks at the Main Library and all neighborhood libraries. The kiosks are among the leading tech tools able to support the Library in its endeavor to deliver superior customer service in all areas. The units double as marketing tools, allowing customers to access the Library's calendar of events, receive recommended titles based on items browsed or checked out, and receive time-sensitive notifications. Customers may also elect to obtain a receipt for all transactions. 

The smart serve kiosks provide an option for quick checkout of materials and customer account inquiries. Use of the units will also provide library staff more time to work directly with customers
Let's work together to bring technology to Riverside Libraries!
About Our Annual Campaign
Each year the Riverside Public Library Foundation conducts an annual campaign. Our annual campaign consists of three phases:
Phase 1: The solicitation of major donors ($500 and above). See this year's major donors.
Phase 2: Our annual fundraiser and the inclusion of a flyer and return envelope included in the City of Riverside's April Public Utility bill.
Phase 3: Personally contacting any donors who have given to us previously but not yet in the current year.
2017 Fundraiser Library 2020
View our slideshow of the 2017 fundraising event Library 2020...

flickr embed.